Follow the roof insurance claim process
Taking the right steps can lead to a quicker settlement and possibly a more accurate insurance payment. It might even fully cover the roofing repair or replacement costs. Not surprisingly, all insurance companies have different requirements, but the basic procedures remain the same for a roof insurance claim. 
While the process may be stressful, it can go more smoothly if you have a general roadmap and a reliable, high-quality roofer who paves the way for a prompt claims settlement so repairs can begin. While the insurance company's adjuster approves and assesses the damage for your claim, your contractor can make supplemental recommendations that the adjuster may not have taken into consideration. 
1. Your Howeowner's Policy
Find out what your insurance covers: It's unlikely you've looked at your homeowner's policy recently. The first step is to review your policy before calling the insurance company or a roofer. Understand all the details, including the type of policy, what it covers, deductibles, requirements, limitations, and when you need to file. You'll also want to know how many claims you have filed in the last few years and how badly your roof was damaged. You'll want to file as soon as possible to avoid problems.  
About warranties: We sometimes get questions about the manufacturing and roofing warranties our customers have purchased. It's important to know that these warranties are separate from your home insurance. Your manufacturer warranty generally covers defects or abnormal wear of roofing materials. The contractor warranty protects against roofing installation and labor issues. Apart from these circumstances, roofing warranties typically do not cover repairs or replacements, which is why homeowners insurance is necessary.
2. Visual inspection
This step is simple enough. Walk around the property and on the roof (if it's safe) and note what you find, such as missing shingles and large tree limbs. Take photos as best as you can and save them for the insurance company and  professional roofing inspection.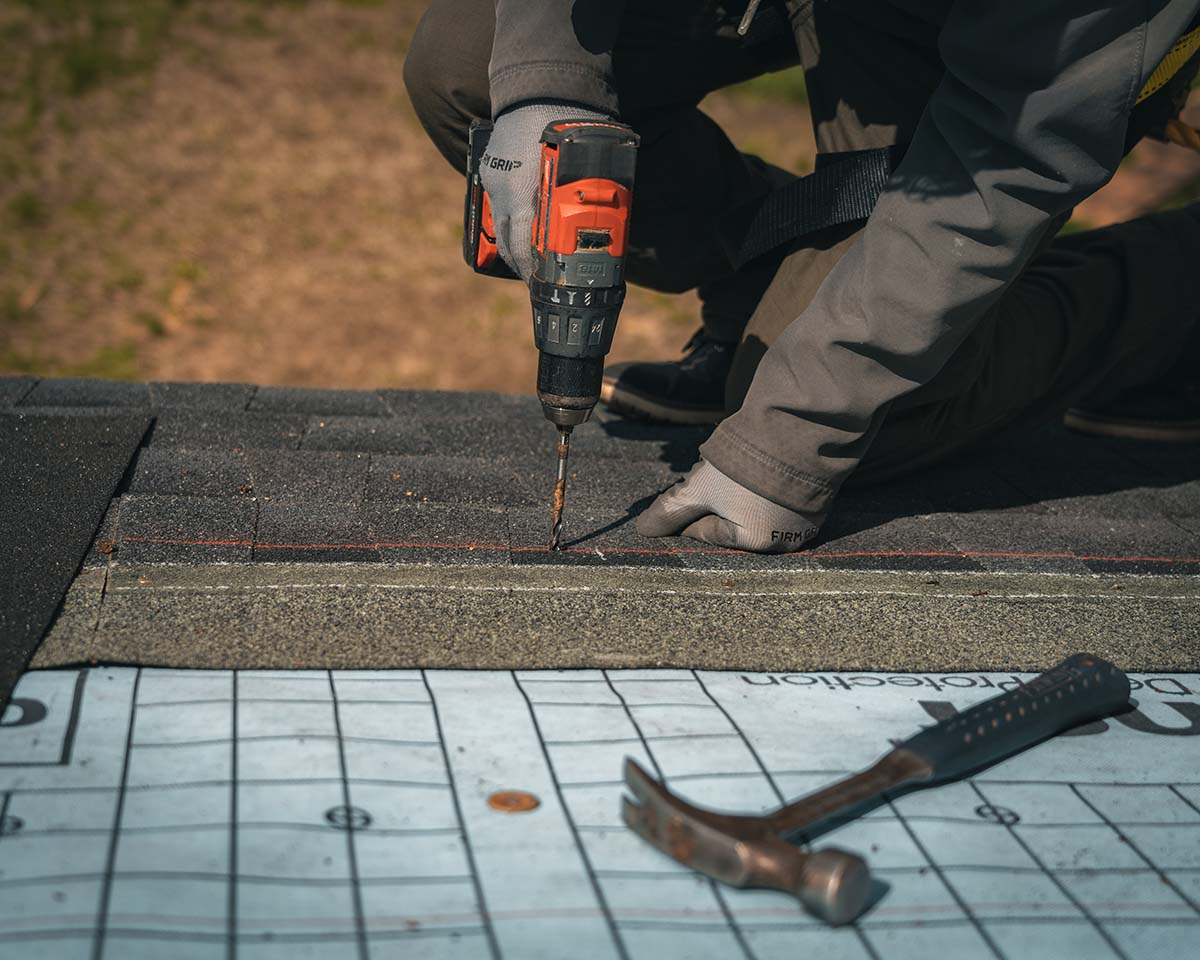 3. Professional inspection and documentation
A highly detailed roofing damage report is needed to validate your claim. The insurance company will send out one of their adjusters to approve and assess your roof damage. It's in your best interest to arrange for an inspection by your own roofing contractor beforehand, rather than rely on the adjuster's report as the basis of your settlement offer.   
Look for a Boston-area roofer like Golden Group Roofing that provides customers with a free comprehensive damage report. The report includes photos and videos of exterior and interior damage, aerial imagery, a detailed roof repair estimate (as a basis for comparison with the adjuster's report), contractor license, and insurance information to save you the stress, speed up the process, and get the best settlement possible.  
4. Temporary roof repairs
When the roofing contractor inspects your roof, they will recommend immediate temporary repairs to avoid further damage until you have your insurance settlement. The homeowner is responsible for taking such steps, as only the initial damage will be covered. Save receipts for labor and supplies so you can submit them to your insurance company for later reimbursement. 
5. Starting the roof insurance claim process
Notify your insurer as quickly as possible after the damage occurs, as there may be a time limit for filing a claim. Ask the agent about their procedures for repairs and any other questions you have about the policy. Make sure you have the correct forms and provide all the information they require, which can include information from your contractor. In addition to reporting roof damage, include copies of any receipts you have for damaged furniture, with an estimate of the cost to repair the interior. Don't forget to also include hotel costs if you can't stay at home during repairs.  
6. Scheduling a visit by the insurance adjuster
Your insurance company will send out an adjuster to confirm and assess the damage, which will largely determine the settlement offer you receive. Note down the adjuster's name, date and time of the visit, and the claim number. Feel free to ask the adjuster any questions about the damage, the terms of your policy, and how long it will take to process the claim, settle the claim, and make repairs. 
Hopefully your contractor has already had the opportunity to inspect the damage. If possible, arrange for the roofer to be at the adjuster's visit to discuss all damages and necessary repairs so that the adjuster's report can be as accurate as possible. This will result in a fair settlement offer that adequately covers repair costs. 
7. Claim settlement and payout
After reviewing your adjuster's claim, the insurance company will offer a settlement. The worst case scenario: your claim is denied for reasons such as the roof being poorly installed or an attic that is not well ventilated. However, issues can be checked by getting a second opinion or requesting another adjuster. 
More commonly, however, a dispute will focus on the dollar amount. We suggest reviewing the offer with your contractor to see if it accurately reflects the repairs that need to be made and the estimated cost. If you determine that the offer is undervalued, the contractor's report will give you leverage to negotiate and possibly change the outcome. If the settlement remains in dispute, you may need to appeal it and go through your insurance company's review process.
Once there is an agreed settlement amount, your contractor will work with the insurance company. This is to verify the scope of work, guidelines, and agreed-upon repair schedule. One thing you'll need to find out is how the insurance company pays out on your claim. This can vary based on the company and the type of insurance you have. What will the payment schedule look like and who will receive the checks–you, the contractor, or your mortgage lender?  
A high-quality contractor makes the roof insurance claim process easier.
It's time to move onto the repair stage with a clear understanding of what needs to be done and by when.
High-quality repairs benefit everyone—you, the contractor, and the insurance company. You want a safe, dry home for your family. The roofing contractor has a reputation (and a warranty) to uphold. Your insurance company doesn't want you to file another claim. Award-winning Golden Group Roofing offers impeccable craftsmanship and customer service. We help to make the insurance process and repairs as easy and painless as possible. Call us today.