Small hailstones can still cause damage
Many people wrongly assume that relatively small-sized hail can't cause damage. However, that's not always true, and it's better to be safe than sorry. Many factors will affect the degree of roof damage, including wind, size, and density of the hailstones, roofing materials, and the positioning of and barrier to your roof. Even if the hail storm wasn't severe, we recommend checking your property and home for damage, especially if your roof hasn't been inspected recently.
Visible and Invisible Damage
When you know how to spot hail damage, you're in a better position to give relevant, timely information to your insurance agency. But a homeowner who knows the basics shouldn't get too cocky. Damage and leaks from hail can remain hidden from the naked eye, so the best move is always to call a professional roofer to schedule a post-storm inspection. Delaying inspection and repairs can result in a leak spreading, more costly repairs, and even a shorter roof life. Read on to find out how you can identify visible hail damage on your roof.
Signs of hail damage from the ground
Before even going up on the roof, simply walk around your property. The more damage you see on the ground, the more likely there is roof damage.
Sign on the ground of hail damage include:
Dents and dings on the siding, window sills, and outside air conditioning units.
Damage to Your decks, porches, and outdoor furnishings
Large or small dents to your gutters and downspouts
New holes in your window screens
Damage to cars parked outside
Low-hanging trees or branches touching the roof
Signs of hail damage from the roof
Rule #1: Protection from falling and other dangers is always the number one priority. If you can't safely get on the roof, call a professional roofing with proper safety certifications. The list below includes damage you can often see when you know what to look for:
Shingles: Your shingles can reveal many clues about potential roof damage from hail. Look for large or small dents, dings, impact marks, depressions, soft spots, discoloration, or coin-sized dark spots across the roof. If you have wood shingles, check if any are cracked, split (possibly with a brown/orange color), missing, or dislodged. Asphalt or composition shingles may have black hail hits, a loss of granules that look like small dark dots, or shiny asphalt or mat.
Gutters and downspouts: Look for dents, dings, and other signs of hail hits. In addition, large amounts of black granules in the drainage system can mean that some of the protective coating has been damaged and may no longer provide a shield against UV rays.
Metal components: Examine metal components, including flashing, vents, plumbing boots, siding gutters, downspouts, and chimney caps for dents or dings.
Skylights and chimney caps: Hail may cause cracks or breaks.
Solar panels: Hail can crack and shatter glass or the plastic covering solar panels, possibly causing decreased efficiency and increased fire risks. Hail can also cause dents and scratches, which can affect the solar panel's performance.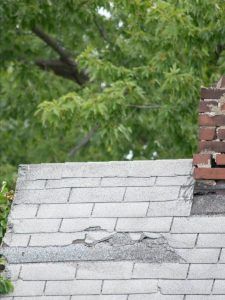 Signs of hail in the home's interior
Take a good look at your ceilings and walls. You may see signs of leaks and moisture from water dripping down through the attic floor. Taking action immediately by calling your roofer can help you avoid mold and mildew growing in your attic.
Document hail damage
Take pictures or videos of all the signs of hail damage you have identified—on the property, on the roof, and in the home. Immediately call your insurance agency about filing a claim for the damage. However, remember that not all damage is easy to spot. Further, other damage may have existed before the storm and gotten worse over time. No matter the cause of damage, call a roofing contractor after you identify all the problems for a full assessment of the roof's condition, identify potential leaks, and recommend repairs.
Maximize your roof's condition with ongoing roof care
With hail and the unpredictable Massachusetts weather, the condition and care of your roof over time can make all the difference. You may already have damage from wear and tear or previous weather events—and a hail storm can make leaks even more likely. Even before hail hits, homeowners should schedule annual inspections and keep up with regular, ongoing maintenance.
If your roof has suffered hail damage, call top-rated, award-winning Golden Group Roofing. We take pride in providing our customers with the highest quality workmanship after storms, all year round, and during emergencies. Contact us today.