The Landing at Hudson Mills is a historic landmark that was once a mill building and has recently been renovated into an office space. It is the home to several locally-owned restaurants and a variety of businesses. Golden Group chose a space with communal desks for planning, wide open spaces for relaxing, and private office spaces for sales calls with clients.
"When looking for a town that had spirit – and Hudson was the perfect location for the people on our team to have fun, support the local restaurants, and      enjoy coming to work," said Greta Bajrami, Co-Founder and CEO of the award-winning roofing company.
Golden Group Roofing employs over 40 full-time fully trained local staff and is passionate about providing a work environment where each employee can learn and grow.
"Our team works diligently to get the job done right and to the customer's satisfaction. This can mean long hours for our crew. We knew we wanted to create a space where our team could unwind," she said. "Working in construction and sales can be a rewarding but demanding career. Finding our new home in the Landing at Hudson Mills building means our team can come together to collaborate, have lunch or coffee at locally owned eateries, and support other small businesses like the local gym."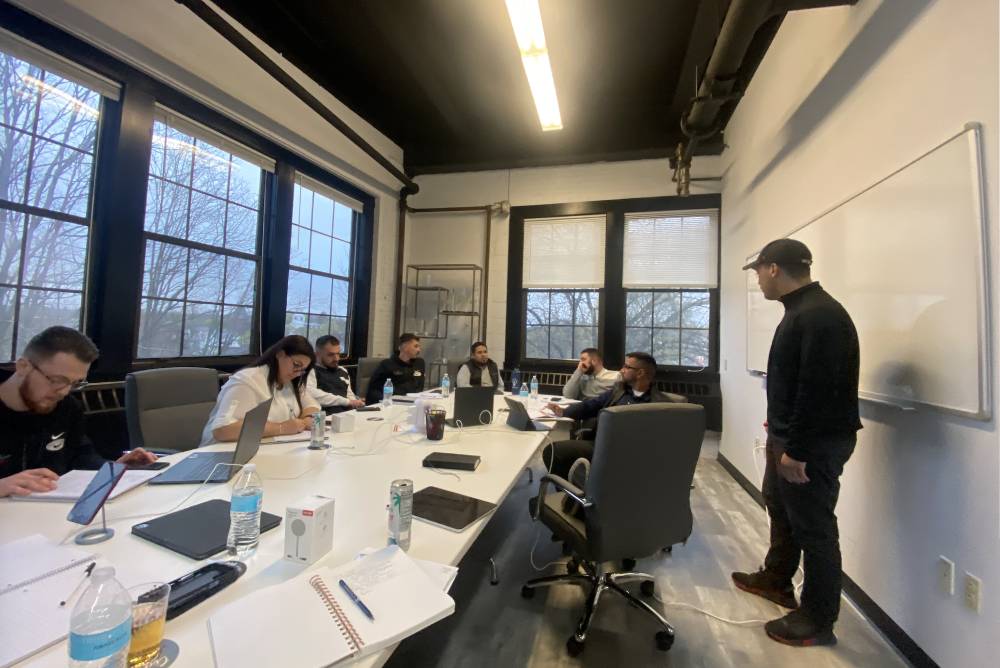 "At Golden Group, we are always thinking about our employee's health and how we can cater to their lifestyle. We work very hard – but we also believe in having a little fun. We've been able to train and maintain some exceptional talent on the Golden Group team by making sure we take care of them." – Greta Bajrami, Co-Founder and CEO
"We plan on being here for a long time," said Bajrami, "and we're excited to be a part of the Hudson community."
Golden Group Roofing has been providing high quality roof installations, roof repair, home siding, skylight replacement and repair, as well as gutter and trim repair to both residential and commercial properties in the Worcester area. It has been a strong supporter of the local community, including donating two entire roofing systems to Habitat for Humanity. Golden Group Roofing serves the Worcester, Middlesex and Suffolk counties of Massachusetts. For more information, call (508) 873-1884 or contact them on their website.