When CEO and founder Greta Bajrami was scouting new locations for the headquarters of her award-winning roofing company, she knew she wanted a collaborative space that embraced the values Golden Group Roofing is known for. She had a vision of a space where her team could feel comfortable and safe, work hard yet have fun, support local businesses, ensure a strong work/life balance, and allow for continued innovation and growth. With this move came another smart move toward collaboration and community support: Golden Group Roofing joined the Hudson Business Association.
She found that space in The Landing at Hudson Mills, a historic mill building and landmark perched between the Assabet River and the Rail Trail bike path. In the midst of a multi-million dollar restoration, The Landing at Hudson Mills is just a quick walk from Hudson's vibrant downtown peppered with boutiques, restaurants, and coffee shops. As strong supporters of small businesses, it made sense that Greta and her team would want to join an organization that offers an inclusive platform for engaging, informing and connecting Hudson businesses.
"We wanted to show the community that we're dedicated to holding ourselves accountable to higher standards," says Greta. "This approach of being visible (in the community) adds a layer of trust and a layer of familiarity."

https://goldengrouproofing.com/news/award-winning-roofing-company-moves-to-hudson-ma/
Hudson Business Association and Golden Group Roofing: A Partnership of Strength
Greta Bajrami, a self-proclaimed believer in networking, built her company from the ground up with its establishment in 2012. Since then, she and her partner Freddy Campoverde (COO and Co-Founder) have worked hard to build a thriving, forward-thinking roofing company that prides itself on exceptional craftsmanship, innovation, and family values.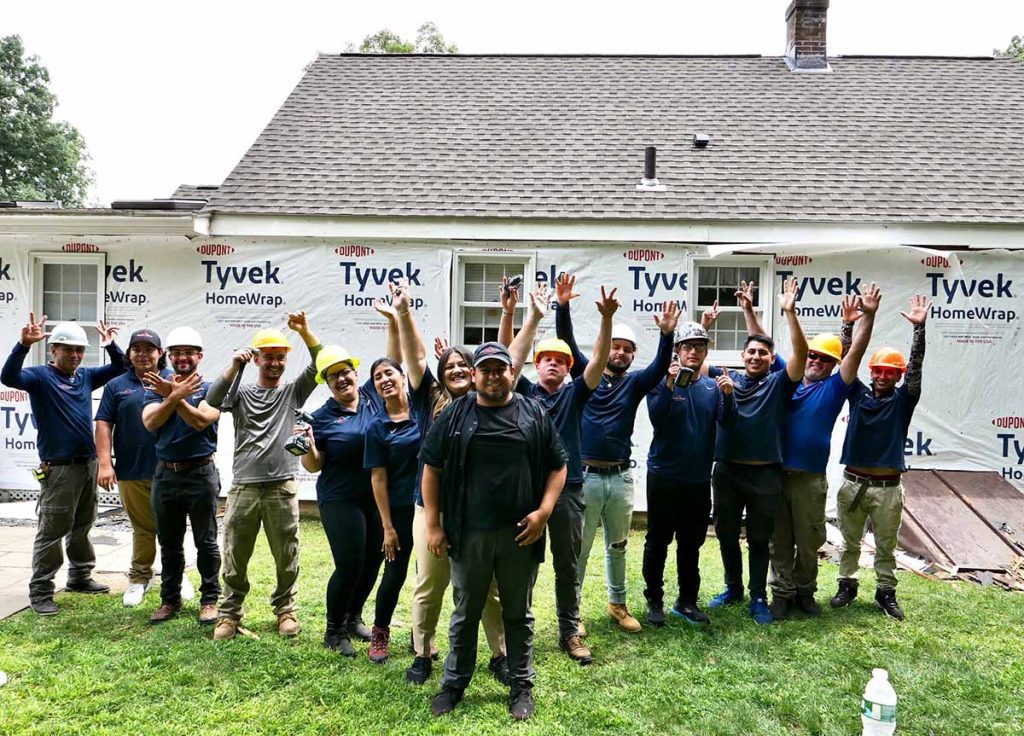 Through growth comes the need for collaboration and support, and that's something Greta places a big emphasis on. "It's human instinct to support and connect with people that we care about and like," says Greta. It is this basic sense of support that led to success within her company as well as an extension of it throughout the community.
One of the best parts of being a valued member of the Hudson Business Association, she says, is attending the monthly Fire Up morning meetings at various business locations in town. It's a chance to meet other like-minded business owners with the same goal: to grow their companies within a community of respect and engagement. These critical networking events are designed to connect business owners with the resources and personal connections they need to continue to thrive. 
Finding a new space to grow her roofing company was priority number one after COVID. Greta wanted to find a new space for their headquarters that was spacious and made people feel comfortable and unrestrained. With its high ceilings and open concept, The Landing office space more than fit the bill. This was a welcome change from the cramped confines of their previous Lexington headquarters, as the employees embraced the new space, complete with living areas, communal conference room, high top dining area, couches, pool tables and more. 
This collaborative and innovative space was just what Golden Group was looking for, and their acceptance into the Hudson Business Association further solidified them as fixtures in the community.
A History of Entrepreneurship
Greta is no stranger to hard work and determination. It seems entrepreneurship runs in her veins. She came to the United States from Albania when she was just nine years old and grew up in Worcester. It was in her senior year of college that she took a summer job in the trades while looking to be inspired for a career path. 
What she found was a lifelong commitment to the construction industry. It came as no surprise to her that the roofing industry has historically been a male-dominated industry, but what did come as a surprise was the slow, inefficient pace of the construction process that was pervasive throughout the industry. This inspired her to fill the holes she was seeing in the processes of other companies, creating a clearer path to get from the initial phone call right through project completion.
Greta talks to Leap Digital about entrepreneurship & passion
Using her background in business and finance, Greta was able to build her company through quality craftsmanship, following up on promises, and generally elevating the customer experience. She was able to build a strong company with enough liquid assets and resources to not only achieve steady growth but to withstand unexpected challenges such as COVID-19.
Today, Golden Group Roofing handles upwards of 350 projects a year, performed by 35 employees and embraced by a niche clientele backbone that appreciates high quality work and streamlined communication.
Greta's success within the construction industry is what has gained her local and national attention throughout the country. Thanks to her never-back-down leadership and female representation in a male-dominated industry, Greta and her team have gained not only the respect of customers and other roofers, but of emerging entrepreneurs within her industry.
When we say Golden Group Roofing is an award-winning company, we mean it. They've won nearly every award out there, on a national, regional and local level, including Big 50 for Remodeling Magazine, 40 Under 40 For Worcester Business Journal, 40 Under 40 by ProRemodeler, and Female Roofing Professional of the Year finalist. 
Greta is also the Massachusetts President and Chair of National Woman in Roofing Council, the Executive Board of Director and Treasurer of the New England Roofing Contractor Association, and the list goes on and on. Check out more achievements here. 
A Focus on Sustainability and Advancement
Because Golden Group Roofing truly values craftsmanship and innovation, staying up to par with others in its industry is a core goal for this company. One way Greta advances this goal is by investing heavily in training for her employees. With knowledge comes power, which is why she's so focused on offering four training sessions a year on anything from best practices to technological advancements in the roofing industry. Golden Group hasn't gotten to where it has without constantly pushing the envelope, striving to know more, do more and be more. It's because of this community spirit and drive that Greta and her team of 35 have been able to position themselves ahead of the industry one step at a time.
One example of this dedication to the future of sustainability is their focus on solar, specifically as it relates to solar roofing. Also known as photovoltaic shingles, solar panels are designed to look and function like conventional roofing materials such as asphalt shingles. Embracing the green energy movement is something Greta holds dear to her heart as her company strives to push boundaries and become innovative leaders in the eco-friendly space.
Customer-Focused Mission
At the most basic level, Greta subscribes to the belief that the customer is king. If there's an issue, her team does the right thing to make sure the customer is happy. "We maintain a flawless reputation in the community by keeping the customer as the main focus."  
Greta Bajrami has made it her personal mission to not only change the landscape of the roofing industry but to continue to be an advocate for women. She hopes to bring this passion and inspiration to her membership in the Hudson Business Association as she continues to make strides in the community.
A Look at the Hudson Business Association
The Hudson Business Association was created in 2008 by government officials and local business owners to embrace the values of inclusion, deeper connection, and information. The HBA is where you can find out about local events, town news, and cultural resources, and as an existing or prospective business owner, you can explore connections to professional development, expansion and retention.
Anyone is welcome to join. Just fill out a member application online and then browse the member directory. Regular meetups occur at local businesses in town, such as Cafe 641, Wild Hare, Tequila's, and New City Microcreamery.