Matt has worked for the last twenty years in the solar industry with various solar manufacturers. He was one of the launching partners of the GAF Solar Division. After many years in "corporate America," Matt decided to freelance, helping roofing companies go solar. 
Greta added, "Matt came onboard as Golden Group Solar's Director, and has been a wonderful asset to our new company.  He believes, as we do at Golden Group Roofing, in environmental responsibility. Matt understands the importance of renewable energy in creating a green world. He is concerned about our planet and wants to improve the 50-year outlook of Earth by helping to educate those in the industry about all aspects of solar energy.  
"He is a fount of knowledge about how solar panels are made, who makes them, how kilowatts and kilowatt hours work, how to read electric bills, and how to calculate Return on Investment (ROI) for homeowners so they know when the breakeven point will be in their investment."
Golden Group Solar provides innovation in Massachusetts solar installation
Golden Group Solar now offers what Bajrami predicts will eventually become the routine way of installing solar systems. The integration of a new roof and a solar system installation provides several benefits, not the least of which is the quality of the craftsmanship of both roof and solar panels.
Bajrami explains, "Everything we do begins and ends with craftsmanship. We are the first company to introduce the installation of roofing and solar at the same time as an integrated process. This means there are no punctures, drilling of bolts into the roofing shingles that can mean roof leaks and more. We install the first course of shingles on the roof and then add the solar mounts. The second course of shingles goes on top of the solar mounts, rather than drilling the solar mounts through both courses of shingles. This means there is no damage to the roof shingles, no leakage.
"You see," she added, "the roof rafters need to be located so that the drilled holes for the solar mounts are fully supported. We mark the exact positioning for the solar mounts when the roof is bare, and we are applying the first course of shingles. There is no hit or miss when the solar mounts are drilled. They are positioned precisely."
This process takes more time to complete, but the extra effort is well worth it in peace of mind for the homeowner. 
Ice and water shield completely covers the roof
In addition, Golden Group Solar installs an ice and water shield over the entire roof, where typically, roofers only use felt paper over the roof and an ice and water shield is installed only three feet to six feet from the edge of the roof. Solar panels start three feet from the edge of the roof to the peak. Golden Group's process ensures that the roof under the solar panels is fully protected.
When solar panels are installed after a roof has been established, there are more opportunities for leakage if there are roof seams where the solar racking system has been installed. Golden Group makes certain there are no seams or nailheads where solar panels are installed. They leave at least one to two inches between beams where the solar racks are mounted.
The integration of roof and solar installations allows for both to be mapped together, ensuring that there are no nailheads or seams where the beams are located. 
Today's technology means fewer solar panels.
If a homeowner doesn't need a new roof, the section where the solar panels are to be located can be replaced, ensuring that both roof and solar rack are positioned optimally. Solar technology today is 30% more efficient, providing more energy with fewer panels.  No longer is it necessary to cover an entire roof with solar panels to reap the benefits of solar energy. 
Solar panels are most effective in areas with direct sunlight… and lots of it. Some people are concerned that the Massachusetts location and its frequent cloudy days will reduce the efficiency of solar panels. In fact, Photovoltaic (PV) solar panels use both direct and indirect sunlight to generate electric power. They are still productive even when there is cloud coverage.
Of course, they are most efficient when they are soaking up direct sunlight on sunny days. However, they can still be effective when the light is reflected or partially obstructed by clouds. On average, solar panels will generate 10% to 25% of their normal power output on days with heavy cloud coverage.
With the clouds often comes rain, which helps solar panels work better. It makes sense. Rain washes away any dirt or dust that has collected on the solar panels. This allows them to more efficiently absorb sunlight.
Breakeven point for solar in Massachusetts
When can you expect your investment in a solar system to break even and begin to pay you back? In MA the average payback period is about nine years with a typical range of six to twelve years. Even if your breakeven point is at the longer end, you'll still end up saving money in the long run. 
Net Metering – What is it and how does it relate to solar in Massachusetts?
In Massachusetts, there is a mandate that you will get a credit for every kilowatt-hour of energy you send to the grid at the retail rate for every kilowatt-hour you pull from the grid. This is a huge benefit for any solar customer. In MA it is especially crucial because the electricity rates are nearly double the national average. The Massachusetts net metering policy helps you to minimize your electric bills and maximize your savings.
Golden Group Solar leading the way for Massachusetts roofers
One company; one set of installers; one warranty; one team for organized and effective communication and customer support. Golden Group Solar has changed the way solar is done.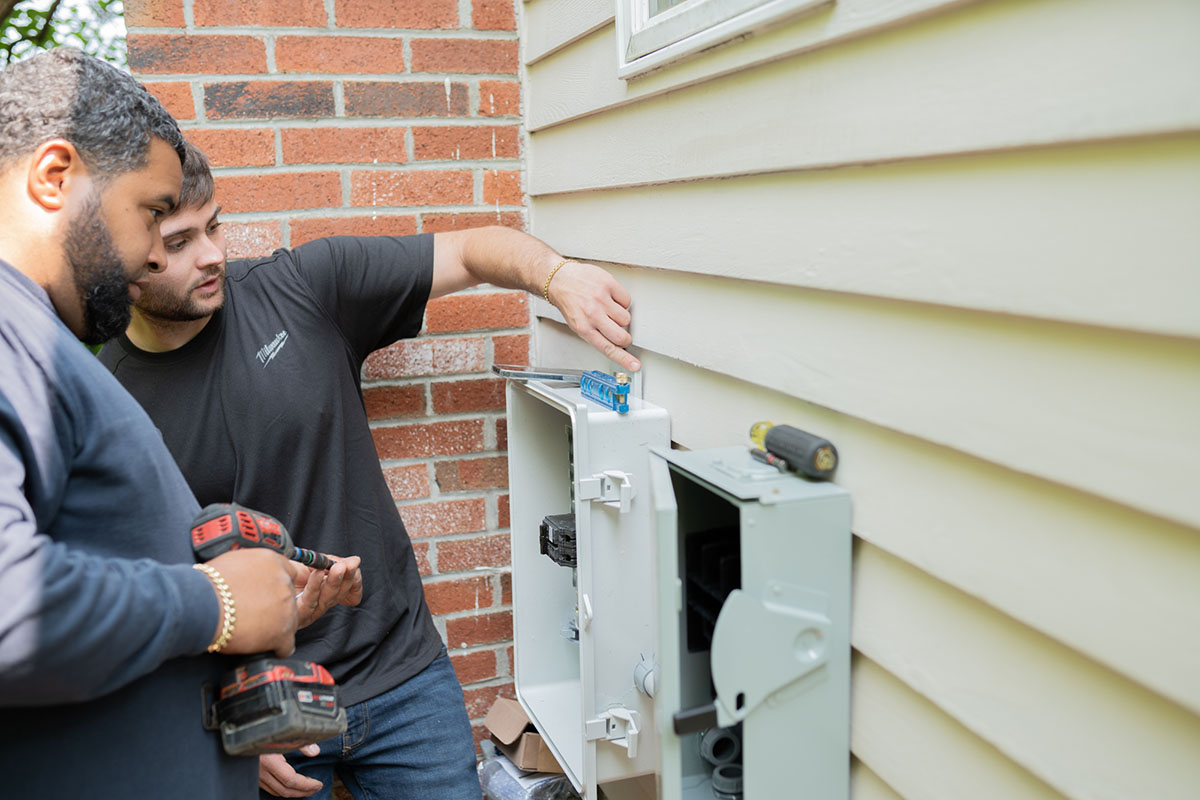 Greta says, "Solar lives on the roof; it must be an integral part of the roof, not an add-on. We have created a new way, a better way, and we are paving the way for other roofing companies in Massachusetts to adopt this method, with and complete piece of mind – change the way solar is done. Solar lives on the roof – a roofing accessory, must be an integral part of it not an add-on.  
Golden Group Solar starts with craftsmanship and the best materials for both the roof and solar system. We make sure both are top-notch and not compromised. We use respected manufacturers with a long history in the industry. Vendors like Hanwha QCells, R Cell, and Silfab Solar Panels. We include an EnPhase Microinverter, which provides a rapid shut down of the system in the event of a fire. It's an essential feature that gives added peace of mind to our homeowners.
Questions about Solar Installation? Contact Golden Group Solar today.
Golden Group Solar will be happy to answer your questions about solar power and to help you calculate whether solar power is the right investment for your home. Read our blog on Are Solar Systems Worth the Investment?
Call Golden Group Solar at 508-873-1884 or schedule a one-hour solar consultation with one of our roofing experts.